Drivloc Motor Stopping Systems

There are many situations where it is not enough or perhaps not practical to fit mechanical guards. That is when you will really appreciate the benefits of Drivloc. Because when needed, nothing stops the machine faster, more positively or more effectively.
Drivloc was developed by RDM over THIRTY years ago, and is now in use all over the world. In the UK alone there are over 30,000 systems in regular use, both as a safety feature and in many cases as a production aid.
Drivloc utilises the well proven principle of applying a D.C. voltage to the stator windings of an A.C. induction motor, which produces an extremely efficient braking torque. Smooth, high speed emergency braking however is only one of the benefits you get.
The DRIVLOC system has No mechanical moving parts this means there are no wearing parts to affect braking performance and minimises maintenance. Drivloc can be retro fitted to any machinery with A.C. motors up to 200hp, and is easily adjusted to match the load to be braked.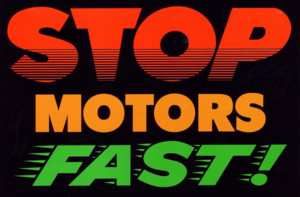 The Motor does not need to be modified or rewound. As part of the Drivloc package we can fit a wide range of emergency switching devices. These include, but are not limited to hand switches, foot switches, panic buttons and wire pull switches.

Illustration shows a typical Drivloc Installation. NO mechanical modifications are required.
Download Prices and Brochures !
Brochure for DRIVLOC, complete with Technical Data and Sizes. (Click here to Download)
Brochure for SAFETY SWITCHES complete with Technical Data and Sizes. (Click here to Download)
PRICE LIST for DRIVLOC, SWITCHES and ACCESSORIES. (Click here to Download)
HSE requirements for Woodworking machines. (Click here to Download)
Please note: Some of the files are in Adobe Acrobat format. To view the Acrobat .PDF files you will need the free Acrobat reader software you can download by clicking here. Open in new browser window

Typical applications for DRIVLOC
Radial Arm Drills
Lathes
Horizontal Borers
Grinding Machines
Polishing Machines
Luggage Conveyors
Power Presses
Ventilation Fans
Overhead Cranes
Pedestal Drills

Indexing Conveyors
Punching Machines
Machines with Long Run Down Times
Band Saws
Lift Motors
Chain Conveyors
Hoists
Rip Saws
Dimension Saws
Multi-Station Drills
Tenoners

Milling Machines
Bending Rolls
Rubber Mills
Belt Conveyors
Food Mixers
Sanders
Planers
Cross Cut Saws
Routers
Moving Gantries
Spindle Moulders
DRIVLOC can be fitted to almost all types of Machines that run on A.C. Power !
How does DRIVLOC work?
Drivloc is an Electronic device that can effect rapid or controlled braking of Single Phase and Three Phase A.C. Electric Motors. These motors provide the motive force behind the majority of todays machinery.
The Drivloc Operating Principle is simple, well proven and well established. When Direct Current (D.C.) Electricity is supplied (Injected) into a rotating Alternating Current (A.C.) motor, the result is a smooth, powerful, braking force.
The Drivloc is suitably connected to the Machine so that when Drivloc is actuated (via a number of possible methods), Drivloc disconnects the A.C. supply to the Motor and simultaneously replaces this supply with a precise D.C. Current Injection.
Once the Machine has come to rest, the Duration timer disconnects the D.C. supply to the Motor, the Motor then remains in a passive state until it is deliberately Re-Started.
Drivloc is able to fully utilise this simple scientific principle because with Drivloc, the D.C. 'Injection' can be very accurately controlled both in terms of Voltage (Braking Force) and Time (Braking Duration).
This means that Drivloc can be easily adjusted to suit the load to be stopped and that in applications where a rapid stop is not suitable, but perhaps a slightly slower controlled stop is preferable, the potential of the brake unit can be adjusted accordingly.
Standard Systems Available for Drivloc
Two 'standard' types of Drivloc are available. (Others can be supplied to special Order).
MOTOR BRAKES FOR EMERGENCY STOPPING,
The manual S.M. range.
The manual S.M. range is the World's most popular safety type machine braking system. With this System, the equipped Machine Starts and Stops normally when it is being operated normally. However, in the event of a potential accident or problem occurring on the Machine, the trip switch is activated by the Machine Operator. Drivloc then instantly cuts the A.C. supply to the motor and simultaneously injects an accurate amount of D.C. current to the motor to bring it rapidly to rest.
Once the Machine has come to rest, the Duration timer disconnects the D.C. supply to the Motor, the Motor then remains in a passive state until it is deliberately Re-Started.
The Drivloc unit must then be Manually reset by Pressing a button on the front of the enclosure, before the machine can be restarted. Thus preventing inadvertent restarting of the machine should an accident have occurred.
MOTOR BRAKES FOR IMPROVED PRODUCTION CONTROL STOPPING,
The Automatic P.M. range.
The Automatic P.M. range is suitable for many production applications as well as certain safety applications. Once installed, the Drivloc forms an integral part of the machines control system.
Whenever the machine stop button is pressed, the brake unit will be activated and bring the machine to a rapid stop. Once the Machine has come to rest, the Duration timer disconnects the D.C. supply to the Motor, the Motor then remains in a passive state.
The Drivloc unit then Automatically resets itself ready for the next Start/Stop Cycle. Whenever the machine start button is pressed, the motor will immediately restart.
NO MANUAL RESET IS REQUIRED.
The P.M. Range is particularly suitable for machines with inherently long Run Down times which often cause Production hold ups or Safety Problems.
Shipping & Technical Spec for Drivloc
The Standard Drivloc units are supplied complete, ready to be immediately and easily fitted to the Machine to be Stopped. The Drivloc Unit is housed in a compact painted steel enclosure rated to IP54. The enclosure is of equivalent size to that of an equivalent rating motor starter. Drivloc Standard Brakes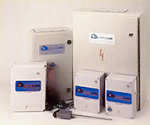 The Standard Drivloc units are available to suit either 415/440 Volt. Three Phase or 220/240 Volt Single Phase Motors. Other Voltages and configurations are available to Order.
Within the Drivloc enclosure are a minimum of Two Power Contactors, One contactor controls the A.C. supply to the motor(s) and the other(s) switch(es) on and off the D.C. Injection current to the motor(s).
There are two high quality Printed circuit modules to carry out the electronic control functions. One module houses both the Trigger control 'chip' (which accurately controls the D.C. voltage) as well as our unique D.C. sensing fail-safe system which prevents the machine from operating if the Drivloc unit is not ready to inject D.C. Current into the Motor.
The other circuit module houses a precision, adjustable electronic timer which controls the duration of the Drivloc D.C. Injection during actuation of the brake unit.
The equipment includes a high quality semiconductor type power Thyristor and Diode set (an electronic rectifier). These devices control the flow of D.C. current to the Motor and they are mounted onto an oversized aluminium heat sink to ensure a long service life.
The Drivloc package is completed by A.C. line fuse(s), control circuit transformer and control fuses.
All Drivloc Units are Manufactured to a Quality Controlled Standard at our Factory in Manchester England. All units are fully tested under simulated site conditions, prior to being carefully packed and shipped.
All Drivloc Units are supplied with a 12 Month Parts and Labour Warranty.